Client
Glass Manufacturer
Location
Nottinghamshire
Download PDF
BP Systems have developed a glass toughening line control system that can be installed on oscillating type toughening lines of any manufacturer. This gives fully automatic control of the complete line, peace of mind and added machine longevity.
The rapid pace of electronic development can mean that control equipment becomes obsolete earlier than the mechanical parts of the machine. This causes problems on control system malfunction, new parts are expensive and not readily available, meaning a loss in production and revenue. We offer a full service for future proofing your equipment, giving a new lease of life by retro-fitting a new control system.

Development
The system has been developed and refined over many years whilst working closely with a world leading UK glass processing manufacturer. Close liaison with plant operators and technicians ensured that an intuitive and user friendly system giving optimum machine performance, efficiency and peace of mind was the final outcome.
Visualisation and Control
The system is based around a Mitsubishi "State of the Art" Q series PLC, which has proven support and reliability.
The operator interface (HMI) is via a 15 inch colour, touch screen HMI, which unlike PC based systems has no moving parts, and thus offers improved reliability.
Two HMI's are installed, one at the Load Point and another at the Unload Point. This ensures that machine operators are fully informed on status and the cycle progress.
The HMI provides an intuitive graphical interface of the plant, allowing the operator to easily visualise the current line condition, with alarms being clearly displayed on the screen in addition to an audible alarm system. The interface also allows secure modification of machine parameters, with multiple security levels.
Up to 200 programs can be stored within the system and are easily editable by site technical staff.
Energy Efficient
To save energy, the system can be programmed to automatically lower temperature on shifts when not used and automatically return to full operating temperature ready for the start of the next planned production. Sensors can be employed on the entry to the furnace to detect glass entering, thus saving energy by only enabling Quenching when glass is present.
Maintenance Tools
The system has various maintenance tools built in to aid with plant set up and calibration. This includes
Conveyor position and speed
Fan Speed
Damper position
Furnace zone temperature calibration and element integrity
Remote Support
System remote support can be offered, via modem or VPN access.
Typical User Interface Showing an Overview of the Plant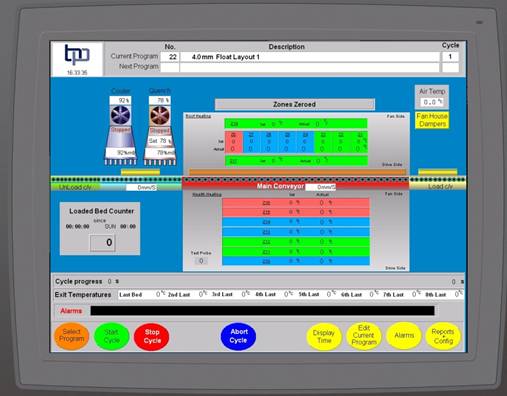 Machine Overview
At a glance the operator can see the status of each heated zone, as it is colour coded. The position of each bed of glass can also be clearly seen. The layout of the screen is customised for each application.
Continual Development
BP Systems are continually developing the system, and if any non standard configuration of plant is required to be controlled, this can be incorporated into the package, to maintain a fully automated line.
Typical Line Configuration
Loading Conveyor
Foot pedal to allow the glass to be easily positioned up to the front edge of the conveyor where a through beam light sensor will stop entry into the furnace
Caster Up/Down control is also provided, to aid positioning
Manual control of the conveyor can be selected to stop entry of glass into the furnace chamber
Furnace Section
The furnace section can have up to 25 heated zones each with a thermocouple and multiple elements which are controlled to give precise temperature management of each zone and maximum temperature uniformity, throughout the furnace length
Individual automatic entry and exit door control is provided and can be adjusted to suit the line configuration, for example, if cold filtration is a problem when quenching, due to both doors being open at the same time, a two stage transfer can be used that ensures that only 1 door at any time is open. Thus glass is driven out before the next glass bed is driven in.
SO2 solenoid valve control is integrated to eliminate glass haze, scuff and iridescence
Various type of Aspiration and Convection systems controls are available as standard with the package, examples being multi-aspirator and bed tracking, these achieve faster heating on coated products
Quench /Cooler Section
Easy selection between individual or common conveyor drive is available
The Quench and Cooler fans can be controlled, either by fan speed or vane position
Upper and lower dampers can be automatically controlled on both fans
The Quench Jaw position can be automatically controlled
Upper and lower pressures are monitored and displayed
Fans house air temperature can be controlled by mixing External air with air from the Quench area, thus maintaining a stable Quench air temperature
Infra red cameras can be employed to display exit temperature, to give feedback on furnace cycle heating performance
System Reporting
A full reporting package is available as an option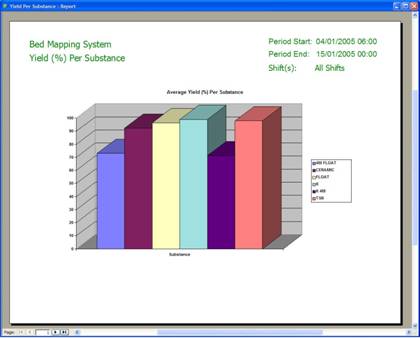 Conclusion
If you want to
Protect your investment
Extend machine life
Minimise downtime
Then our retro-fitted control system is for you. Please contact us on 01623 451 012 for further information.